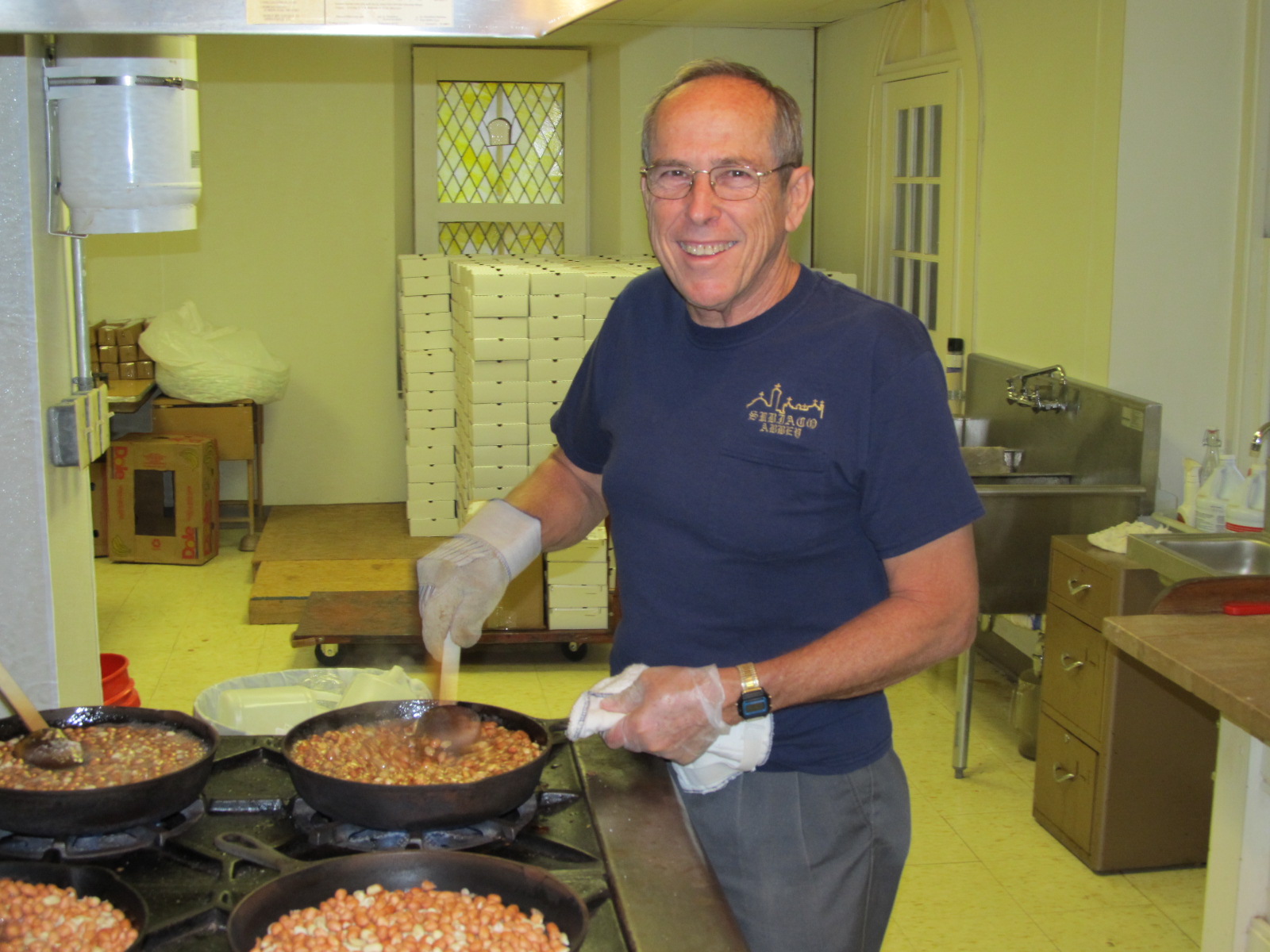 Abbey Brittle has been made and sold by the monks of Subiaco Abbey since 1995. The recipe that we use is from Arkansas and features all-natural products combining peanuts, sugar, corn syrup and baking soda. Given the immense popularity of our product, we have now trademarked the product name and logo.
We believe that we have four secrets that make our product the best in the nation. First, we use an extraordinarily large amount of peanuts in our product. You can test it for yourself when you compare our product to others. Secondly, we do not mass produce our product. Our cooking requires a careful blending of the ingredients as the skillet is slowly heated to increasingly higher temperatures. This meticulous care produces an amazingly blended product. Thirdly, we add baking soda at the end of the process to provide a more robust texture that makes our product less dense and easier to chew. Finally, we add NO DAIRY PRODUCTS. Others may use butter or milk, but we just think that makes the product taste more like taffy than brittle. Likewise, this is also beneficial for all those out there who are lactose intolerant and can't consume products with dairy ingredients, or for strict vegetarians. Why bother hiding the taste with butter or milk if your peanut brittle is already the best around? These four secrets are what make our peanut brittle the best in the nation!
The brittle is then left to cool naturally and not in some forced air ventilation system. Each tray of brittle is then carefully broken into pieces and placed in our cans that hold 20 ounces. Before placing the top on the can, we then wrap the can to produce an airtight seal. Once the top of the can is put in place, we then wrap the entire container once more to seal in the freshness. We then place the entire container is our specially designed box that is nicely presentable as a gift.
So, we are confident that once you taste our peanut brittle you will definitely want more. We sell lots of the Brittle during the holiday season as gifts, but we also make it throughout the year for gifts and just satisfying the sweet tooth. Before we ship the product, we also provide the option of placing a card in each box of brittle that you can compose as you wish. You will see that option available once you add a product to your cart. Likewise, you will also have the option of shipping directly to multiple addresses if you are purchasing the brittle as gifts.
Thus, from the monks of Subiaco Abbey, we hope you enjoy our peanut brittle. Produced by the monks, cooked by the monks, and shipped by the monks. Our's is truly a labor of love!